here
follow essay about higher education Laura Saara ja Sakari Salinaksen Liti MM:ssä
see url Tiistaina 14.11 Lähdimmme Laura, Saara ja Sakke sekä joukkuejohtajan Sarianna liikkeelle kohti Amsterdamia. Siellä vietimme Vettä satoi ja aika viileätä oli, mutta ei haitannut kun emme olleet jäämässä sen pidemmäksi aikaa.
https://whistlerfilmfestival.com/blogs/?get=help-with-a-business-plan&for=5  
discursive essay help 15. keskiviikkoaamuma jatkoimme kukonlaulun aikaan kentälle ja kohti Ecuadorin Guayaguiliä. Lento kesti Quiton välilaskuineen 14 tuntia, ja täytyy myöntää että oli aika lailla takapuoli puuduksissa kun perille päästiin illan jo pimennyttyä. Kenttähotelli oli jo varattuna ja sinne yöksi, ei tarvinnut paljoa unta houkutella. Tosin ennen sitä vielä varailimme seuraavalle aamulle lentoja Galapakogselle, jottei jäisi viime tinkaan.
customer satisfaction essay 16. torstai-aamuna sitten jatkoimme Galapagokselle aikaeroja tasailemaan ja kisoihin virittäytymään (suom. lomailemaan). Muuta pääsi jo toisella lennolle, mutta minä vasta kolmannelle. Siitä huolimatta olimme koko kööri kasassa Baltran kentällä yhden korvilla. Siitä sitten bussilla saaren rantaan, josta pikku paatilla salmen yli Santa Cruzin saaren puolelle josta taksilla hotelli Galapagos Verde Azuliin joka oli varattuna. Kävimme vielä illalla Galapagoksen uljasta pääkaupunkia Puerto Ayoraa katsastamassa. Metropolissa on kaikkiaan jopa 18000 asukasta ja se oli kävelty laidasta laitaan vartissa. Upea rantakatu käsitti kaiken eli muutaman raflan ja krääsäkaupan. Ruoka oli hyvää ja sitä oli riittävästi. Suola järvi ja rotkojärvi tuli myös katsastettua.
http://www.littlepriest.edu/assistant/?book=source-evaluation-essay&uk=7 17. perjantaina kävimme Darwin tutkimukeskuksessa ihmettelemässä harvinaisia elukoita, iltapäivällä vielä saaren keskiosissa viidakkopolulla.
will someone do my homework  
https://www.mpacuk.org/news/?march=write-my-paper-reviews&day=28 18. lauantaina laavakiviluoliin ja ihmettelemään jättikilpikonnia, sekä iltapäivällä Beatchille  meri-Iguaanien seuraksi. Iltapäivän päätteeksi päädyimme merimatkan jälkeen terassiravintolaan syömään. Sieltä näkyi koko fauna liskoista ja merileijonista, pelikaanien, rauskujan ja haiden kera auringonlaskua ihaillen. 
http://sunda.upi.edu/wp-content/school/bird-essay.html 19. sunnuntaina siirryimme Galapagokselta kisapaikalle Salinakseen. Taksi, lautta, bussi, lento ja taksimatkan jälkeen löysimme majoituksen rantakadun varrelta pursiseuraa vastapäätä. Kävimme saman tien katsomassa kisapaikan juuri parahiksi kun Mastersit tulivat vesiltä. Siinä sitten morjestelimme Laurin, Kimmon ja Mikan. Ennen viimeistä kisapäivää heidän sijoituksensa on 19. Söimme seuran hulppeassa ravintolassa ja palasimme hotellille lepäilemään.
go here  
here 20. Maanantai. Sen verran kiireiseltä väki vaikutti seuralla edellisenä päivänä jotta ajattelimme aamusta suunnistaa Etelä Amerikan läntisimpään kärkeen Chocolateraan tähystämään kisa-aluetta ja valaita.
https://spcom.upc.edu/copyright.php?will=doing-a-homework-assignment-in-the-year-2125&who=3  Sieltä kaupan kautta seuralle venettä metsästämään. Olipa vaikeata löytää ketään joka olisi paatista jotain tietänyt. Siinä kerittiin välillä syömään, kuvaamaan paikkoja ja ottamaan suomalaiset Masters purjehtijat rantaan, ennen kuin löytyi vesillä ollut paikallinen venevälittäjä. No löytyi, 80- luvun puolivälin Nickels josta puuttui kaikki peräsintä myöten. Siinä ruvettiin kasaamaan listaa kateissa olevista kamoista, joita alkuasukkaat alkoivat etsimään. Homma jäi kesken illan pimettyä ja avajaisten alkaessa, joten jatketaan sitä huomenna.
can i write my own cover letter  Juhlalliset avajaiset koostuivat Masters- ja South Americanien palkintojen jaosta. Mastersin voitti Ched Proctor jo ties monennen kerran, mutta South Americanit voitti uusi nimi Javier Conte Argentiinasta. Laurin venekunta oli 20.
essay about dreams   
follow url 21.tiistai. Jatkoimme veneen virittelyä heti aamusta. Mittaukset kun kuulemma alkoivat 0930. Vantteja tuunatessamme paikallinen kaveri tuli juttelemaan ja sanoi, että voihan tuota viritelläkin, mutta jos olette huomanneet niin fokan falli on maston sisällä. Virittely ei siis ollut murheistamme suurimpia. Kaveri oli yrittänyt sitä muutaman päivän korjata, mutta huonolla menestyksellä. No apuun tuli armada Marineroja ja he purkivat maston ja saivat fallin korjattua. Hyvää palvelua.
follow  Mittamiestä ei löytynyt mistään ja suma seisoi. Lopulta kaveri löytyi purjemittauspaikasta, jossa hän joutui käytännössä tekemään kaiken kun paikalliset avustajat tuntuivat olevan aika pihalla. Sama jatkui kaikissa mittauspisteissä, ja kun ordereita eikä muutakaan saanut kisatoimistosta ulos ennen kuin viimeinenkin kohta mittauslapuista oli täytetty niin aikaa paloi. Vene oli sinänsä hyvän painoinen 707lbs. Yhden hemmon mielestä se ei riittänyt, joen rupesivat vielä purkamaan lyijyjä pois jotta putoaisi 700 paunaan.Niinhän siinä kävi että lähti vähän liikaa pois ja sitä sitten säätämään jne. Keulaköysi ei kelvannut ja mela oli kelvoton Kaiken kaikkiaan mittausten alusta siihen että pääsimme vesille kului käsittämättömät viisi tuntia.
https://www.mpacuk.org/news/?march=the-writer-who-writes-multiple-drafts-of-a-paper&day=28  
see  Niinhän siinä kävi että myöhästyimme harjoituslähdöstä, mutta päätimme kaartaa suoraan vastaan kryssivien veneitten vanaveteen, jotta saataisiin jonkinlainen käsitys venevauhdista. Styyralla kulki hyvin, mutta paaralla ei johtuen levankivirityksestä jota ei saanut keskitettyä. Taas riittää puuhamaata huomiselle.
http://www.behavior.org/css/?yes=free-online-statistics-homework-help&go=1   
http://www.behavior.org/css/?yes=synthesis-of-monoglyceride&go=1 Keskiviikko ja ensimmäinen kisapäivä alkoi levankia viritellessä. Olipa käsittämätön systeemi, mutta pienellä viilauksella saatiin se sellaiseksi että pysyi edes keskellä. Vesille lähdettiin hyvissä ajoin harjoituskisasta viisastuneena. Eipä keritty purjehtia kun 10 min kun ison ploki jäi käteen. Saatiin se korjattua vesillä ja varmistettua Saaran liiveistä löytyneillä E-jolla osilla.
http://www.littlepriest.edu/assistant/?book=write-my-persuasive-paper&uk=7  
ivy league essay help Päivän ensimmäinen lähtö ammuttiin liikkeelle aikataulun mukaisesti, mikä hämmästytti melkoisesti. Tuuli oli 6-7m/s ja aallokko puolta metriä. Ei ehkä aivan ideaali keli meille, mutta hyvin tuntui vanha Nickleli kulkevan. Hyvän lähdön siivittämänä olimme ylämerkillä parinkympin sakissa. Lenssillä ei oikein aallokossa saatu kulkemaan, joten sijoitukset putosivat pikkuhiljaa. Maalissa olimme kuitenkin 30. 56 veneen fleetissä, mukava aloitus.
https://whistlerfilmfestival.com/blogs/?get=adolf-hitler-primary-homework-help&for=5  
follow Toinen lähtö ei onnistunut aivan nappiin, mutta pääsimme heittämään plungan takaa oikeaan reunaan vapaisiin tuulin. Oikea laita osoittautui hyväksi ja ylämerkillä olimme puolen välin haminoissa. Lenssillä vaan  tuppasivat edelleen menemään hieman kovempaa, joten eipä tuossa tulokset kohentuneet. Maaliin tultaessa oli kuitenkin kiva sijoitus 29.
watch Ensimmäisen päivän jälkeen olemme 31. ja Laurin venekunta 53.
http://sunda.upi.edu/wp-content/school/constant-gardener-essay.html Torstain toinen kisapäivä alkoi heikossa tuulessa. Siitä huolimatta fokan vaijerin rapulukko lensi pirstaleina pohjalle. Saatiin se kuitenkin teipin avulla viriteltyä toimivaksi.
http://sunda.upi.edu/wp-content/school/essay-on-success-in-life.html  
http://sunda.upi.edu/wp-content/school/complex-organizations-a-critical-essay.html Vasta kolmannella yrityksellä ja U-lipulla saatiin lähtö liikkeelle. Ajatuksena oli mennä vasemman puolen kautta ylös, mutta löysimme itsemme oikealta. Emme tosin olleet huolissamme kun olimme johtavan veneen ja moninkertaisen maailmanmestari Tito Conzalesin kannassa. Ylälipulle tultaessa saatoimme vain todeta että näyttää nuo huiputkin joskus erehtyvän kun olimme viimeisten joukossa poijua kiertämässä. Seitsämän venettä takana eikä lenssillä kulje. Seuraavalla kryssillä sitten vasemman kautta ja saimme tilannetta kohennettua. Mutta viimeisellä lenssillä jälleen kolme venettä heittämällä ohi ja maalissa olimme 40.
write an essay on right to information act  
https://www.mpacuk.org/news/?march=scoring-essays-online&day=28 Päivän toisessa lähdössä olimme hyvässä paikassa aivan viivalla 15 sekuntia ennen paukkua. Katselimme hämmästyneenä kun molemmilta puolista painoi venettä ohi, ja totesimme että yleinen takaisinkutsu tulee varmasti. Onneksi jatkoimme kuitenkin täysillä, koska lähtöaluksen vihdoin nähtyämme ei siellä ollut ylhäällä yhtään lippua! No tällä kerralla vasemmasta laidasta 15 ensimmäisen joukossa kohti ylämerkkiä. Siinäpä sitten olikin vastassa sellainen hässäkkä jossa paaran veneenä ei ollut kiva olla. Styyran jonoa alaspäin, joku kääntyy poikittain ylös ja omakin vene piihin. Vauhti pois ja purjeita edessä. siinä oltiin eikä mitään voitu kun kummaltakin puolelta meni ainakin 20 venettä ohi. Siihen päälle lenssin tuska, niin peli oli menetetty. Lenssin aikana tuuli kiihtyi 6-7m/s ja puuskat 8-9. Meillä ei paino enää riittänyt ja porukkaa meni venevauhdilla kylmästi ohi sekä ylä- että alapuolelta. Lenssillä vielä lisää turpiin. Todeta täytyy ettei vanhalla Weballa pärjää. Reacheriä ei ole suunniteltu lenssiradalle. Viimeinen kryssi maaliinkaan ei onnistunut joten vain 10 venettä takana ja kokonaissijoitus putosi 38. Laurin venekunta kohensi hieman asemiaan ja on sijalla 51.
https://whistlerfilmfestival.com/blogs/?get=creative-writing-jobs-northern-ireland&for=5  
https://whistlerfilmfestival.com/blogs/?get=jewish-homework-help&for=5 Kolmas kisapäivä alkoi jälleen veneen korjaamisella. Rapulukkoja vaihtoon. Vesille lähdettiin kevyessä tuulessa ja spinnua nostettaessa siihen tuli viilto, tällä kertaa omaa hölmöilyä. Onneksi oli jesaria mukana niin saatiin paikattua vesillä.
custom writing services  
source Ensimmäitä lähtöä hierottiin kevyessä tuulessa peräti kolme kertaa ennen kuin onnistui U-lipulla. Saimme hyvän lähdön ja olimme ylälipulla puolen välin paremmalla puolella. Lenssi ja seuraava kryssikin aoonistui kohtuullisesti, ja kun vielä viimeisellä maalilenssillä leikkasimme harvojen joukossa  vasemmalle jossa sattui olemaan enemmän tuulta, pääsimme ensimmäistä kertaa spinnuosuudella ohittelemaan muita! Maalissa 33, hyvä alku päivälle.
Toinen lähtö olikin sitten katastrofi. Ei viitsitty ajaa yläpuolella olevan Lauria lähelle, mutta alapuolella oleva Prcoctor kylläkin kiilasi meidän kylkeen kiinni. Ei saatu venettä vauhtiin, ja yläpuolen veneet peittivät tuulen pitkäksi aikaa. Vene ei kerta kaikkiaan liikkunut mihinkään 50 purjeen muurin takana, ja viitisen minuuttia lähdön jälkeen huomasimme olevamme pari sataa metriä muiden jäljessä selkeästi viimeisenä. Tarpeeksi kun väliä tuli niin ruvettiin pikkuhiljaa saamaan plungaa kiinni ja ennen ylälippua pääsimme Nigerialaisen ohi. Lenssillä täysin eri kulmaan kuin muut, ja saatiinkin pari venettä ohitettua. Kryssillä kaisa oikeaan kulomaan ei hirveästi tuottanut, mutta ylämerkillä kuitenkin puolenkymmentä venettä takana, Lauri lähimpänä. Lenssillä totesimme ettei spinnun kanssa pärjätä takana tulevalle, Joten leikkasimme taas sivuun ja pidimme suurin piirten paikkamme. Laurin kanssa tiukka kisa maaliviivalle saakka, mutta toiseksi jäimme, takana taisi olla viisi venettä. Reissun surkein purjehdus.
Päivän viimeiseen lähtöön tuuli taas nousi tuttuihin 5-6m/s lukemiin. Saimme keskeltä hyvän lähdön ja etenime mukavasti kohti vasenta laitaa. Tikki oikealle ve3i kuitenkin plungan keskelle ja menetimme asemaamme. Ylälipulle tulimme oikealta puolenvälin huonommalla puolella. Lenssillä tuttuun tyyliin ja alaportilla taas kovaa hässäkkää jonka kuitenkin selvitimme hienosti. Seuraava kryssi vasemmalta ja paaralla lipulle. Katsoimme jo kaukaa että nyt on aivan hirveä hässäkkä kehkeytymässä. Lähdimme kiertämään sumaa alakautta, mutta se näytti jatkuvan puoli kilometriä, ja kun lähelle poijua avautui reikä taakse valuvan toisissaan kiinni olevien veneitten eteen kiilasimme siihen. Tuuli tietysti loppui täysin ulkokautta kiertävien veneiden viedessä sen. Kauhean kolina saattelemana ajauduimme poijuun kiinni parkkeeranneen Chileläisen kylkeen, joka jossain vaiheessa rupesi kiskomaan meistä vauhtia. Sitten oli meidän vuoro osua poijuun ja sitä kautta kohti levittäjää, Jossa sama Chileläinen oli taas poikittain makaamassa poijuun. Sama hässäkkä toistui siinä ja tuomarivene katseli ihmeissään katastrofalista kaosta. Siinä ei enää kukaan tiennyt mitkä kaikki kaksitoista sääntöä oli ristissä minkäkin kanssa, kuka oli oikeassa ja kuka missäkin väärässä. No, kiersimme kuitenkin kierrokset kaaoksesta selvittyämme, ettei ainakaan poijukosketuksesta hylättäisi. Jännää oli ettei kukaan jättänyt hässäkästä yhtään protestia eikä edes Chileläisiä hylätty poijukosketuksesta. Lenssi eteni tuttuun tapaan ja viimeinen kryssi onnistui hyvin kun lähestyimme maalilinjaa paaran halssilla joka nosti hyvin aivan lopussa, sijoitus oli 38.
Kolmannen kisapäivän jälkeen oli purjehdittuna seitsämän lähtöä ja poisheitot mukaan lukien putosimme pari sijaa 40:ksi. Lauri piti sijoituksensa 51.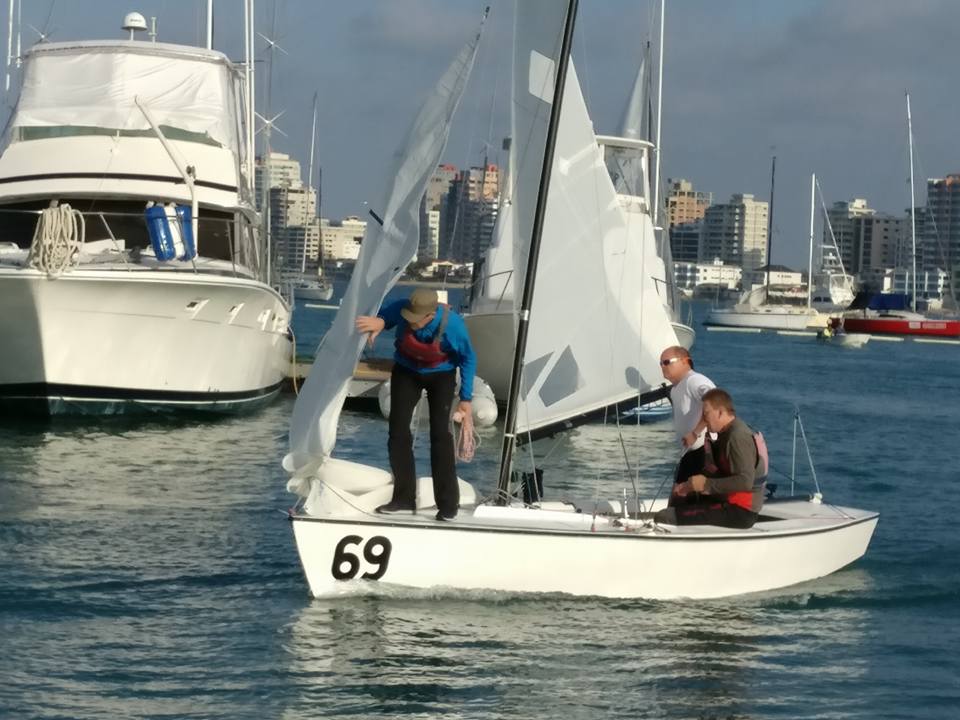 Viimeinen kisapäivänaamuna oli traikun rengas tyhjänä. Marinerot pumppasivat sen täyteen ja taas mentiin.
Tuuli oli taas kevyt ja se johti siihen että yleisiä takaisinkutsuja oli taas muutama ennen kuin päästiin liikkeelle. Hyvä lähtö mutta taas tosi kimuranttia tuulta. Sisään ulos, ylös alas eikä oikein mitään tolkkua saatu. Vasemman kautta ylälipulle ja puolen fleetin paikkeilla. Lenssillä taas muista eroon ja pidimme paikkamme. Toinen kryssi samalaista syheröä ja viimeisellä lenssillä vasemmalle muista eroon ja yllättävän hyvin kulki. Maalissa 35, olimme tyytyväisiä.
Kisan viimeiseen lähtöön taas pari yritystä. Lähtö ihan ok, mutta koventuneessa tuulessa vene ei jostain syystä kulkenut eikä noussut. Oikean kautta ylös ei ollut hyvä idea, koska taas vasemmalta tultiin. Ylämerkillä olimme viimeisten joukossa. Lenssillä ei tilanne juuri kohentunut, eikä toisella lenssillä vaikka vasemman kautta yritimme. vene ei edelleenkään tuntunut kulkevan. Viimeisellä lenssillä ainoastaan yhdeksän venenttä takana, mikä säilyi maaliin saakka.
Loppusijoitus oli 43. joka hyvän alun jälkeen tuntui pettymykseltä. Toisaalta jos olimme tällä kokoonpanolla purjehtineet kerran kimpassa ennen kisoja, niin eipä tuo todellisuudessa huono sijoitus ollut. Olimme i kuitenkin Best of rest of the worlds eli paras ei amerikkalainen venekunta. Olimme hyvin kisassa mukana jne. Mutta totuus on se että suomalaisilla on vielä paljon tehtävää nimenomaan venevauhdin suhteen. Laurin loppusijoitus oli 52.
Kaiken  kaikkiaan hyvä reissu. Taas tuli paljon hyvää kokemusta. Maailmanmestaruuden vei Argentiinalainen Javier Conti ylivoimaisella sarjalla. Ehkäpä vielä jonain päivänä suomalainen…Kaiken kaikkiaan hyvä reissu. Tuli taas paljon hyvää kokemusta. Maailmamestaruuden vei Argentinalainen Javien Conte ylivoimaisella sarjalla. Ehkäpä vielä jonain päivänä suomalainen...Kaiken kaikkiaan hyvä reissu. Tuli taas paljon hyvää kokemusta. Maailmamestaruuden vei Argentinalainen Javien Conte ylivoimaisella sarjalla. Ehkäpä vielä jonain päivänä suomalainen...